FOOT LEVELERS ORTHOTICS
Injury, aging, or stressful activities can all cause
a misalignment in your spine which triggers
different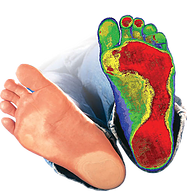 symptoms throughout your body.
Chiropractic adjustments and Foot Levelers'
custom-made Spinal Pelvic Stabilizers help bring
your body back to its natural state of alignment. Stabilizers,
a unique form of in-shoe orthotics, help hold your chiropractic adjustments in place and reduce skeletal stress and pain.
At our office, we utilize the 3-D Body View Laser scanner, which is the fastest, most accurate and most advanced method of processing your Stabilizer order. Take advantage of this technology and order your orthotics today!