As a Reader of Dr. Karl R.O.S. Johnson, DC's Blog, you can download a FREE copy of Dr. Andy Barlow, DC's new book, License To Heal
Are you living each day with chronic pain? Have you been told that there's no hope for a solution and you're "just going to have to learn to live with it?" Most people (and their doctors) don't understand the root of chronic health problems, but Dr. Andy Barlow is here to help unravel the often mysterious causes of chronic pain.

A chronic symptom is like the check engine light flashing in your car. It alerts you to the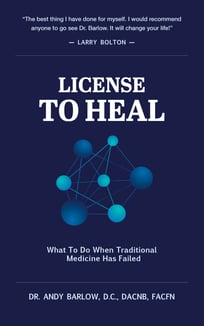 problem but doesn't tell you where it's coming from. The good news is that it's possible to untangle your web of dysfunction and find the root cause of your chronic pain. Using his 7 Keys to Health, Dr. Barlow walks you through simple and effective changes that you can start making today that will help you drastically improve the quality of your life.

Dr. Barlow is a chiropractor, functional medicine doctor, and neurological specialist who earned his diplomate and completed a fellowship through the elite Carrick Institute and has since taught hundreds of doctors from around the world this life-changing material. (I am one of the doctors privileged to have learned from Dr. Barlow and am a certified graduate of the American Functional Neurology Institute).
At his clinic in Tupelo, Mississippi, he specializes in helping people that traditional medicine has failed. With his characteristic wit and emphasis on taking personal responsibility for your health, take this life-changing journey with Dr. Barlow as he teaches you the 7 Keys to Health and helps you untangle your web of chronic dysfunction.

Get your FREE download of Dr. Andy Barlow's
new book on
Wednesday, Nov 11, 2020.
You can find it at www.LicenseToHealBook.com
---
If you found value in this article, please use the social sharing icons at the top of this post and please share with those you know who are still suffering with chronic health challenges, despite receiving medical management. Help me reach more people so they may regain their zest for living! Thank you!
Always remember one of my mantras., "The more you know about how your body works, the better you can take care of yourself."
For more details about the natural approach I take with my patients, take a look at the book I wrote entitled: Reclaim Your Life; Your Guide To Revealing Your Body's Life-Changing Secrets For Renewed Health. It is available in my office or at Amazon and many other book outlets.