The longer sensitive individuals eat gluten, the more likely they are to develop other autoimmune diseases


A 1999 landmark study published in Gastroenterology found that the duration of exposure to gluten in celiac disease patients affects the risk of developing other autoimmune diseases. The finding made age at diagnosis an important factor in the overall health of patients with celiac disease.

For the study, an Italian research team screened 909 patients with celiac disease for other autoimmune diseases, including IDDM (Insulin-Dependent Diabetes Mellitus), DH (Dermatitis herpetiformis), Hashimoto's thyroiditis or Graves' disease, autoimmune hepatitis, alopecia, atrophic autoimmune gastritis, connective tissue disease (rheumatoid arthritis, systemic lupus erythematosus, dermatomyositis, scleroderma, or Sjogren's disease), psoriasis, Addison's disease, unexplained cerebellar ataxia, epilepsy with cerebral calcification, or immune anemia, neutropenia, or thrombocytopenia. They then compared the prevalence of these conditions in three different subgroups, which were separated based on when the patient was diagnosed with celiac disease (before age 2, between ages 2 and 10, and after age 10).

The team found that the prevalence of the other conditions was highest in the subgroup of patients diagnosed after age 10. Similarly, patients diagnosed between ages 2 and 10 had a higher rate of other conditions than those diagnosed before age 2. This suggests that the prevalence of autoimmune conditions increases with increasing age at diagnosis of celiac disease (ie, increasing duration of exposure to gluten).

The researchers' chart below demonstrates the frequency of developing other autoimmune diseases.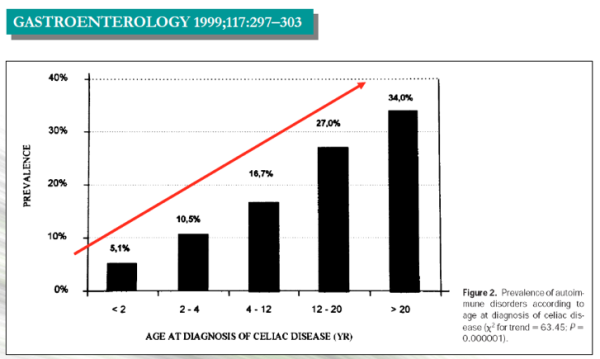 The authors concluded: "Indeed, the age at diagnosis of celiac disease is the single best predictor of the prevalence of autoimmune disease."
The sensitivity and specificity of the testing is paramount in findind gluten sensitivity at a young age. The typcial medical test for gluten sensitivity is accurate mainly when there is total villous atrophy of the small intestine. That's like going to the dentist and they can't tell you have tooth decay until 90% of the tooth is missing. Dr. Karl R.O.S. Johson, DC at Johnson Chiropractic Neurology & Nutrition uses state of the art Cyrex testing developed by Dr. Aristo Vojdani, a world renowned immunologist.
If you found value in this article, please use the social sharing icons at the top of this post and please share with those you know who are still suffering with chronic condition symptoms despite having medical managment. Thank you, help me reach more people so they may regain their zest for living!
All the best – Dr. Johnson – Digging Deeper To Find Solutions
Ventura A, Magazzú G, Greco L; SIGEP Study Group for Autoimmune Disorders in Celiac Disease. Duration of exposure to gluten and risk for autoimmune disorders in patients with celiac disease. Gastroenterology. 1999;117:297–303.