The Brain's Goldilock's Principle Your Must Learn
Too much, or too little, iron can permanently damage the brain!
NOT ENOUGH: Low iron has been linked to many health problems, including fatigue, restless legs syndrome, developmental delays, lower I.Q., decreased resistance to infections, ADHD, anxiety, depression, sleep disorders, psychotic disorders, brain fog, memory loss, hair loss, and Tourette's.
Thinking about getting pregnant and want your child to have a healthy brain? Your iron levels need to be in a healthy range starting at conception.
A pregnant woman that is low in iron, or has decreased iron availability, early in her pregnancy can cause lifelong neurodevelopmental disorders like ADHD, low I.Q., developmental delays, and decreased brain maturation. The health of a child starts with the health of the mother the day they are conceived and having adequate iron stores throughout her pregnancy is an essential part of being a heathy mother. This is why work with women to ensure they are as healthy as possible, and have ideal iron levels, before, during, and pregnancy.
TOO MUCH: High iron will increase the risk for serious neurodegenerative diseases like Parkinson, age-related macular degeneration (AMD), Huntington disease, ALS, Alzheimer's, progressive ataxia, or any other neurogenerative disease that one may be at a risk of developing due to genetic and environmental factors. There is an increased risk for suicide, depression, bipolar, anxiety, mood swings, obsessive compulsive disorder (OCD), schizophrenic-like psychosis, brain-based hormonal problems, and possibly even autism in people with untreated high iron/hemochromatosis. High iron damages the brain causing neuroinflammation, which can then go on to accelerate the risk of mental illness. Therefore, we always do through labs to ensure iron ranges are in a healthy range. Most people don't get a full-iron-panel and are not in a healthy range.
JUST RIGHT: Learn everything that need to know, and will not learn anywhere else, in Dr. Christy Sutton's upcoming Iron Curse Webinar, and book. Learn about high and low iron issues, and how to really get to the root cause of a health problem!
The iron curse webinar
Learn the key steps to ensuring you are truly healthy and preventing healthy problems rather than passively waiting for them to come.
If you want to learn how to take your health beyond your genes, and have control over your health, then register today for The Iron Curse Webinar. If you cant make the live seminar, then you can watch them recorded.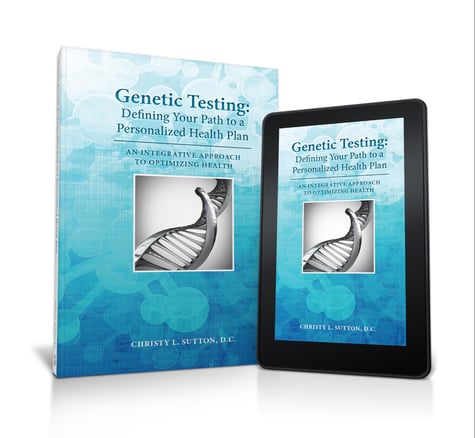 There are genes that can increase your risk for high or low iron. Dr. Christy Sutton will be discussing these genes in The Iron Curse. Get your Genetic Detoxification report to find out what your genes are, and then get her first book, Genetic Testing: Defining Your Path to a Personalized Health Plan, to learn more about the genes. I used her book and my 23 and Me genetic profile to unravel a mystery health challenge several years ago. You can read about my health challenge and what I did to correct it in a previous blog post. In fact what I discovered with the help of Dr. Sutton's Genetic Detoxification report and her book is still helping other patients with the same problem I had. You will need to read that post to find out what is was :-)
Don't miss The Iron Curse webinar and book. It will have cutting edge and groundbreaking information that you will not find anywhere else! The webinar starts Jan 17th, 2023, and the book will be coming in a few months.
---
Always remember one of my mantras, "The more you know about how your body works, the better you can take care of yourself."
For more details about the natural approach I take with my patients, take a look at the book I wrote entitled: Reclaim Your Life; Your Guide To Revealing Your Body's Life-Changing Secrets For Renewed Health. It is available in my office or at Amazon and many other book outlets. If you found value in this article, please use the social sharing icons at the top of this post and please share with those you know who are still suffering with chronic health challenges, despite receiving medical management. Help me reach more people so they may regain their zest for living! Thank you!