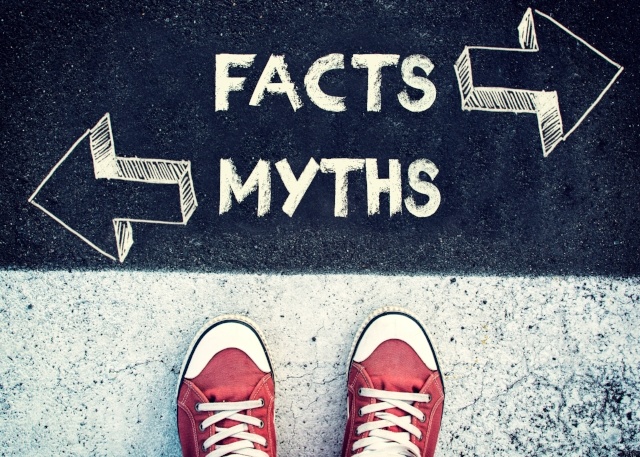 When I write blog articles and posts on social media about ADD or ADHD, occasionally someone will strongly voice there opinion that ADD is a myth (okay, really sometimes they are downright rude and obnoxious about it...and I hide, ban and delete their posts). Thay assert ADD is a made-up concoction by teachers or doctors or the medical establishment. Typically the post is written hastily with no argument to back up their point of view.
I wanted to provide a more balanced view and couldn't find a more eloquenty stated, concise source than the quoted material from Dr. Daniel Amen, MD you see below.
Dr. Amen is a physician, double board certified psychiatrist and ten-time New York Times bestselling author.
He is the Founder and CEO of Amen Clinics in Costa Mesa and San Francisco, California, Bellevue, Washington, Reston, Virginia, Atlanta, Georgia and New York City. Amen Clinics have the world's largest database of functional brain scans relating to behavior, totaling nearly 100,000 scans on patients from 111 countries. Dr. Amen is also a Distinguished Fellow of the American Psychiatric Association, the highest award they give members.
Sorting the Facts from the Myths
"ADD is not even new in the medical literature. George Still, a pediatrician at the turn of the last century, described children who were hyperactive, inattentive, and impulsive. Unfortunately, he labeled them "morally defective." During the great flu epidemic of 1918, many children also contracted viral encephalitis and meningitis. Of those who survived the brain infections, many were described with symptoms now considered classic for ADD. By the 1930s, the label "minimal brain damage" was coined to describe these children. The label was changed in the 1960s to "minimal brain dysfunction" because no anatomical abnormality could be found in the children. Whatever its name, ADD has been part of the psychiatric terminology since the inception of the Diagnostic and Statistical Manual (DSM) in 1952. (The DSM is the diagnostic bible listing clinical criteria for various psychiatric disorders). Every version of the DSM has described the core symptoms of ADD, albeit by a different name every time."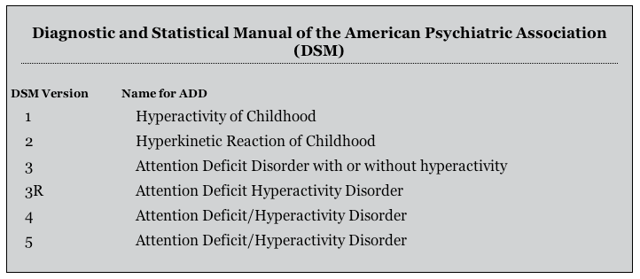 "An estimated seventeen million people in the United States have attention deficit disorder (ADD), which was later renamed as attention deficit hyperactivity disorder (ADHD). I prefer the name ADD, as ADHD highlights the hyperactive component of the disorder (H) and discards half the people who have it, particularly girls, who are typically not hyperactive. According to the CDC, 13.2 percent of boys at one time have been diagnosed with ADD, 5.6 percent of girls.
ADD is the most common learning and behavior problem in children. But the issue doesn't end there: It is also one of the most common problems in adults, and has been associated with job failures, relationship breakups, loneliness, a tremendous sense of underachievement, drug abuse, Alzheimer's disease, obesity, and Type 2 diabetes. Despite its prevalence, many myths and misconceptions about ADD abound in our society. Here are just a few of them:
MYTHS
ADD is a flavor-of-the-month illness, a fad diagnosis. It's just an excuse for bad behavior.
ADD is over diagnosed. Every child who acts up a bit, or adult who is lazy, gets placed on Ritalin or Adderall. ADD is only a disorder of hyperactive boys.
ADD is only a minor problem. People make too much of a fuss over it.
ADD is an American invention, made up by a society seeking simple solutions to complex social problems.
Bad parents or bad teachers cause ADD. If only our society had old-fashioned values, there wouldn't be these problems.
People with ADD should just try harder. Everybody gives them excuses and coddles them.
Everyone outgrows ADD by the age of twelve or thirteen.
Medication alone is the best treatment for ADD, and has few side effects for most people.
FACTS
ADD has been described in the medical literature for about one hundred years. In 1902, pediatrician George Still described a group of children who were hyperactive, impulsive, and inattentive. Unfortunately, he didn't understand that ADD is a medical disorder and labeled these children as "morally defective."
Less than half of those with ADD are being treated.
Arkansas and Alabama had the highest percentage of children treated, while California had the lowest. An article in the Journal of the American Medical Association concluded that there was no evidence that ADD is over diagnosed in our society.
Many people with ADD are never hyperactive. The non-hyperactive or "inattentive" ADD folks are often ignored because they do not bring enough negative attention to themselves. Many of these children, teenagers, or adults earn the unjust labels "willful," "lazy," "unmotivated," or "not that smart." Females, in our experience, tend to have inattentive ADD, and it often devastates their lives.
Left untreated or ineffectively treated ADD is a very serious societal problem!
-33 percent never finish high school compared to the national average of 8.7 percent (25 percent repeat at least one grade).
-52 percent of untreated teens and adults abuse drugs or alcohol.
-19 percent smoke cigarettes (compared to 10 percent of the general population).
-46 percent of untreated hyperactive boys will be arrested for a felony by age sixteen, compared to 11 percent for controls and 21 percent of ADD adults versus 1 percent for controls.
-21 to 25 percent of inmates in a number of studies have been found to have ADD.
-75 percent have interpersonal problems; untreated ADD sufferers have a higher percentage of motor vehicle accidents, speeding tickets, citations for driving without a license, and suspended or revoked licenses.
-People with ADD also have many more medical visits and emergency-room visits and get injured up to five times more than others.
-Parents of ADD children divorce three times more often than the general population.
-ADD is found in every country where it has been studied. I once had a patient from Ethiopia who had been expelled from his tribe for being so easily distracted and impulsive.
-Ineffective parents or teachers can certainly make ADD symptoms worse, but they are generally not the sole cause. ADD behaviors often make even the most skilled parents and teachers appear stressed and inept.
The harder many people with ADD try, the worse things get for them.
Brain-imaging studies show that when people with ADD try to concentrate, the parts of their brains involved with concentration, focus, and follow-through (prefrontal cortex and cerebellum) actually shut down— just when they need them to turn on.
Many people never outgrow ADD and have symptoms that interfere with their whole lives. Thirty to sixty-five percent of children diagnosed with ADD will have disabling symptoms into adulthood.
Treatment can be very effective when properly targeted, especially when using a comprehensive approach, including education, support, exercise, nutrition, and personalized supplements or medications. Unfortunately, when children or adults do get treatment for ADD, shotgun medications are usually the only treatment given.
Why are there so many myths and negative reactions about ADD when physicians know so much about it? The answer is simple. Until now, you couldn't see ADD. On the outside, ADD children, teens, and adults look like everyone else. Sure, they may be more distractible, more impulsive, and more restless. And after all, it's a lot easier just to chalk up someone's problem as bad behavior or a child as "someone who doesn't try hard enough," rather than to go deeper and understand why. But unless you know the story of an ADD person's life, you can't see that he or she has ADD." [1]
If we can help in any way, feel free to contact us at Michigan Brain Health at our ADHD hotline 586-930-5148 or email us at info@MichiganBrainHealth.com. We are located inside the Johnson Chiropractic Neurology & Nutrition clinic on the west side of Van Dyke Avenue in Shelby Township, Michigan, across from the Shelby Township Library.
Remember, brain maps help find the cause of ADD. Neurofeedback can often correct the problem.
Always remember one of my mantras., "The more you know about how your body works, the better you can take care of yourself."
---
For more details about the natural approach I take with my patients, take a look at the book I wrote entitled: Reclaim Your Life; Your Guide To Revealing Your Body's Life-Changing Secrets For Renewed Health. It is available in my office or at Amazon and many other book outlets. If you found value in this article, please use the social sharing icons at the top of this post and please share with those you know who are still suffering with chronic health challenges, despite receiving medical management. Help me reach more people so they may regain their zest for living! Thank you!
Source:
1. Amen, Daniel G. (2013-12-03). Healing ADD Revised Edition: The Breakthrough Program that Allows You to See and Heal the 7 Types of ADD . Penguin Publishing Group. Kindle Edition.