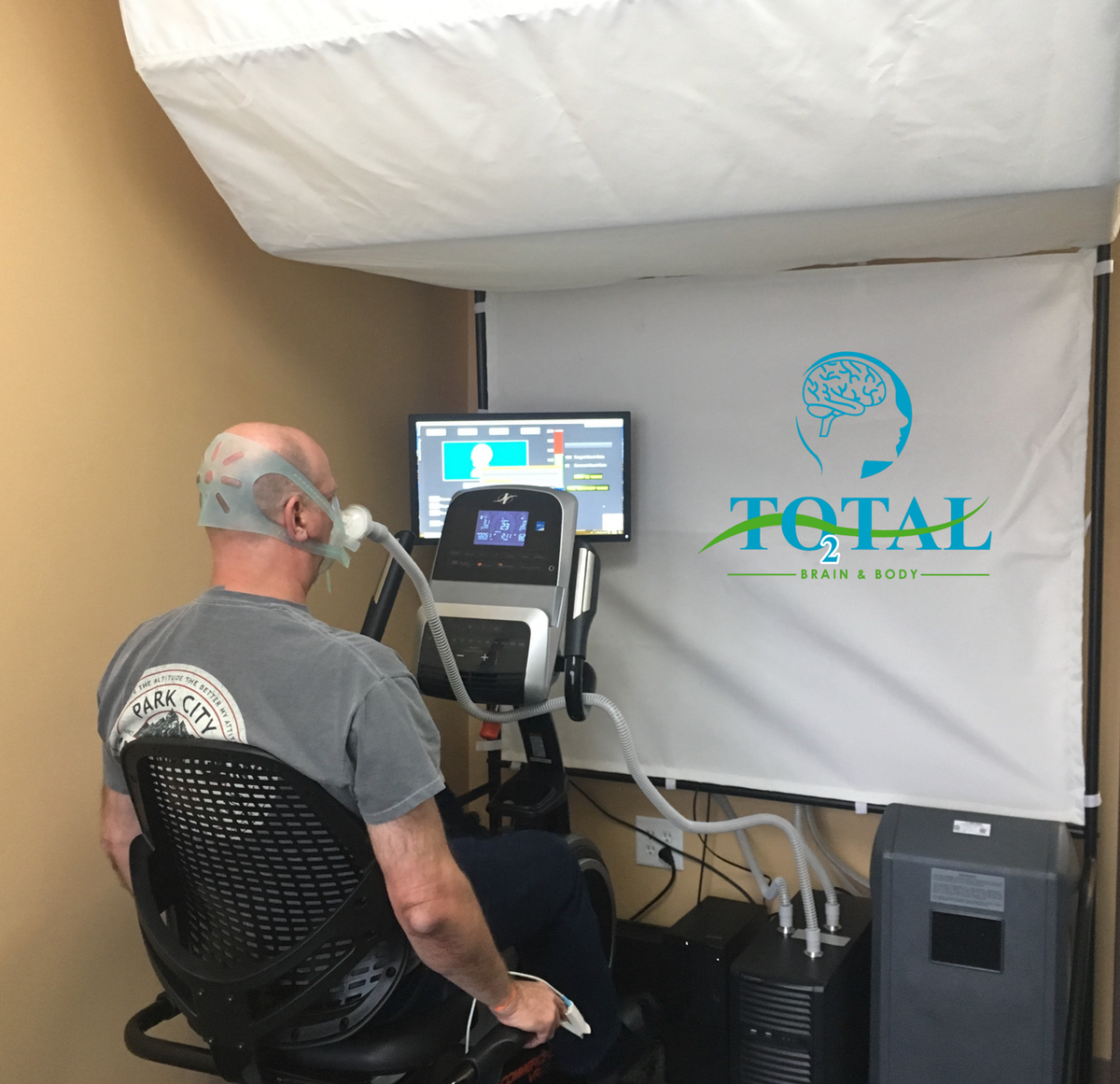 Exercise with Total Brain & Body O2
We offer exercise with enhanced air therapy (sometimes called exercise with oxygen therapy or EWOT) to enhance brain function and energy production. The system we use is called Total Brain & Body O2 Therapy, manufactured by Ergo-Flex Technologies, LLC.
The basis of the protocol on Total Brain & Body O2 Therapy is to induce O2 deprivation and then once recognized by the software data, flood the body with O2 saturation and take advantage of the vasodilation/saturation by pushing it to as much tissue as possible via exercise (in this case our NordicTrack
®
Commercial VR21 recumbent bike).
Total Brain & Body O2 Therapy is designed to
facilitate healing by super-saturating nearly all body tissues (especially brain, kidney, liver) plasma and lymph with very high levels of oxygen that permeates the tissues
because of
the exercise component.
Neuroplasticity Requires Oxygen
We can use Total Brain & Body O2 Therapy as a stand alone therapy or prior to neurofeedback training to increase oxygen levels in the brain. Total Brain & Body O2 Therapy is supplied via the Total Brain & Body O2 apparatus and is non invasive and painless. It can be combined with the Dr. Johnson's neurofeedback therapy to provide faster and more synergistic results.
Total Brain & Body O2 Therapy ensures the maximum amount of oxygen reaches where it is needed the most; to damaged and inflamed tissues and allows them to return to normal aerobic metabolism. Total Brain & Body O2 starts a healing process where the process halted due to poor cellular healing capacity.
Oxygen is vital for every function of the body and brain. No matter what your present level of physical and mental health, you will benefit from flooding your cells with live giving oxygen.
Read More