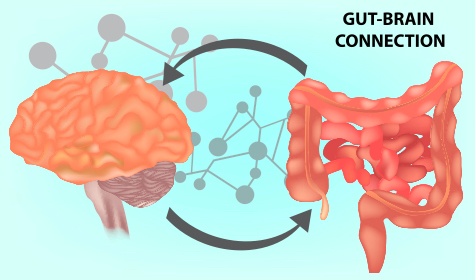 THE ROLE OF A HEALTHY GUT IN HEALTHY BRAIN FUNCTION
A large body of evidence is accumulating to support a role between healthy gut function, neural development and function of the central nervous system. The microbiota present in the gut should be considered an inner organ with functions similar in importance to any other organ present in the body. Disruptions in this "organ" may alter many things including central nervous system function, contributing to ADHD, anxiety, depression, chronic pain and a host of other maladies. [2]
Interesting Facts about the Gut
The human gut is sterile at birth, but is quickly colonized. By one year of age, it looks similar to that of an adult profile, although it is still unique to that child. Total adult load is estimated at 1,800 genera, 40,000 species, 1-2kg in weight, 100 trillion in number and possesses 100 times the genes found in the human genome. It is the equilibrium of the microorgansims that is important and what you eat and the kind and amount of toxins, including antibiotics affect the gut microbiota.
Read More