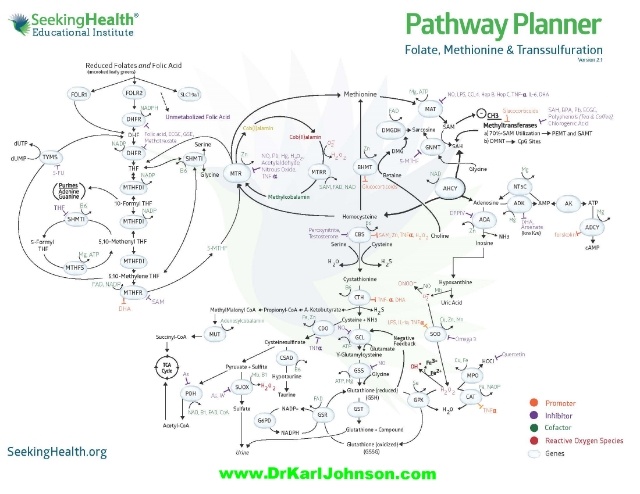 ---
Chronic health challenges are very disruptive to living the life you deserve. Just treating the symptoms with drugs obviously is not the answer, or you would be back to vibrancy.
Many people just exist day to day with low energy, pain and dysfunction. If this decscription fits you, then you need to learn about a concept that may be new to you called methylation. My aim is to help you reclaim your life by deciphering your metabolism.
Since my professional mantra is "The more you learn about how your body works, the better you can take care of your health", I am happy to provide this introduction to methylation. In fact, part of my driving force to my continuing education is to learn more about what drives the illness that plagues my family lineage. My father, his father and his mother all had Parkinson's disease. My mother had Hashimoto's, rheumatoid arthritis, irritable bowel syndrome, colitis and dementia. You can bet my family history is one strong driving force to my incessant investigation into the nuances of functional medicine.
Methylation allows us to be human. Essentially methyl groups (CH3 in chemical format) act as keys or switches to turn reactions on or off. In some situations, adding methyl groups stops reactions (DNA replication) and in some situations adding methyl groups allows chemical reactions to occur. Millions of methylation processes occur every second in every organ in every cell, and in the fluids between our cells. Methylation plays a role in our physical, chemical and emotional status.
Reduced methylation capacity and defects in methylation can be tied to nearly every chronic disease and disorder (see the list below). The level of our health is really determined by the function of our methylation processes. By definition, methylation is the process of adding a methyl group (CH3) to a chemical (hormone, toxine, gene, etc.) to change its function, activate the chemical, or deactivate the chemical.
I promise you that learning about this concept of methylation can bring you joy and hope! Dive in and learn the answer to this question: Can optimized methylation be the key to your health recovery?
Read More