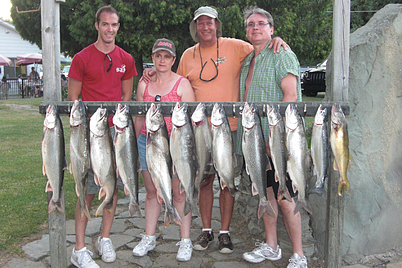 I could have easily titled this article "Eat, Fish and Be Healthy" but that wouldn't have been as descriptive. Michigan in the heart of summer is an amazing water wonderland. She is surrounded by the great lakes that just beg for exploration and the sharing of her bounty. Recently I hired my friend Captain Dan Cruchon to take my sons and a couple friends and I sport fishing in Lake Huron. Fishing with Captain Dan Cruchon is always a great experience. His knowledge and expertise in the field of sport fishing is amazing. There has never been a time where we have left the boat empty handed. I've made it an annual tradition to hire Captain Dan and his Stormy Chinook to capture food for our family. We love salmon, trout, walleye and other great lakes fish. What a great way to add fish to the freezer and best of all it is wild – NOT FARMED.
Farmed fish is very unhealthy as it contains PCB's, artificial colors and the feed is often wheat based, which contains gluten…and even worse. As you know from my other articles gluten can trigger autoimmune illness, such as Hashimoto's in susceptible individuals. In May of 2007, Rick Weiss, a Washington Post staff writer, wrote the article entitled, Farm-Raised Fish Given Tainted Food. In this article Rick explained tainted ingredients made it into the farming food supply:
"The tainted Chinese ingredient that was incorporated into U.S. pet food and later made its way into chicken and pig feed was neither wheat gluten nor rice protein as advertised, but was seriously contaminated wheat flour, government investigators said yesterday.
The finding adds a new layer of fraud to an already seamy tale of international deception.
Moreover, officials said, some of that contaminated flour, mislabeled as gluten, was mixed into fish food in Canada and exported to the United States, where it was fed to fish raised for human consumption.
Accordingly, some American fish may be laced with melamine, the industrial toxin whose spread has revealed in startling detail the many ways in which the food chains for pets, farm animals and humans are internationally intertwined."[1]
I just don't understand how food producers can think that food not made the way nature intended is fit for human consumption…but we all know for many food producers it comes down to profits being more important than the health benefits of their products. That's the reason I am very selective about the food I put into my body. It's also a good reason to charter a fishing trip or two every year.
Normally when we fish with Captain Dan for salmon we are able to bring home about 100 pounds of this delightfully healthy fish. Compare wild salmon to farmed salmon:
"First, farmed salmon usually has dye added to it to improve the looks of the product. Even with the coloring, the product doesn't look as good as Wild Salmon. Furthermore, these colorings come with recently documented cancer causing agents. These dyes have zero health benefits, and have no other purpose than to fool you, the consumer, into thinking the product is rich in flavor ... Don't believe the hype! Also, one of the true health benefits of salmon is not as concentrated in farmed salmon. That benefit is called Omega 3 oil. These oils have been scientifically proven to have the highest concentrations in Wild Alaskan King Salmon, and is also prominent in Wild Sockeye & Coho. The Alaskan salmon runs are fish that live as nature intended them to live, in cold, deep water, returning every year to the pristine rivers in Alaska's remote wilderness to spawn."[2]
Furthermore PCB's found in farmed salmon is much higher than in wild salmon:
"Seven of ten farmed salmon purchased at grocery stores in Washington DC, San Francisco, and Portland, Oregon were contaminated with polychlorinated biphenyls (PCBs) at levels that raise health concerns, according to independent laboratory tests commissioned by the Environmental Working Group.
These first-ever tests of farmed salmon from U.S. grocery stores show that farmed salmon are likely the most PCB-contaminated protein source in the U.S. food supply. On average farmed salmon have 16 times the dioxin-like PCBs found in wild salmon, 4 times the levels in beef, and 3.4 times the dioxin-like PCBs found in other seafood. The levels found in these tests track previous studies of farmed salmon contamination by scientists from Canada, Ireland, and the U.K. In total, these studies support the conclusion that American consumers nationwide are exposed to elevated PCB levels by eating farmed salmon."[3]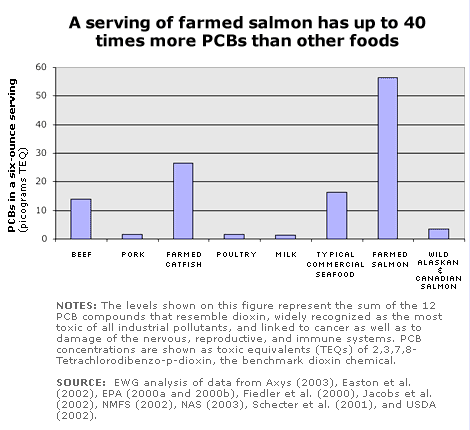 In general it is way healthier to eat fresh caught wild fish rather than buy farmed fish…and it is less expensive too. Hiring Captain Dan usually results in our net cost for a pound of fish to be between approximately $4.00 to $9.00 per pound (including travel and lodging). Plus we get to experience the fun of fishing, the beauty of nature and the bonding between friends and family. What more could you ask for!
As I've written about before, when I am at an outing, I also maintain my health promoting dietary requirements so I can put as many of the odds in my favor to avoid the autoimmune diseases so prevalent in my family history.
In preparation for our 6-hour afternoon fishing trip on Lake Huron at bit of shopping and menu planning was necessary. The captain, my son, Kyle, and I all need to be gluten free so we brought some provisions for the trip to tide us over until dinner. So what do you eat while on such a fishing trip? We brought a large jar of pickled herring, gluten free crackers, uncured salami (no nitrates or nitrites), a case of water, True North Almond Pecan Cashew Clusters (these crunchy nut clusters combine freshly roasted pecans, almonds and peanuts with a surprising hint of sweetness) and a combination packaged of olives, sun-dried tomatoes and roasted peppers. Kyle even made home-made hummus spring rolls with shredded carrots and lettuce. Yum!
Consider going a fishing expedition or buy wild food when you are shopping and by all means stick to your health supporting/restoring diet while you have fun.