---
You want to be able to keep up with your family, be able to sleep on your side or just walk without pain, but your knee or knees scream at you in pain. Every day is a chore due to your chronic knee pain and you want non-surgical help. I am happy to say I have a solution for you that works and works FAST!
The typical method of dealing with a painful area of the body is focusing the treatment on the painful part of the body with physical therapy, Chiropractic, massage, rehab, etc. If you have tried this focused treatment without success and are left thinking you have no other choices, know that I am writng this article to give you another viewpoint and a non-surgical knee pain option.
Thousands of people have been helped with the methods I am going to explain I have personally helped many people who were desperately looking for a non-surgical solution to their knee pain. It's likely you can be helped too. Of course not everyone is a candidate for the procedures I will outline, but a vast majority of people are suitable candidates.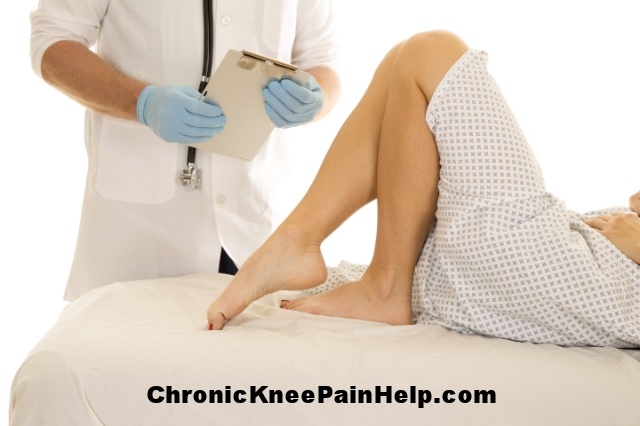 Did you know that all pain is really felt in the brain and is your body's way of telling you there is a problem that needs help? In fact I'll go so far as to say if you don't take into account the brain's involvement in your knee pain, you won't be able to get rid of your pain. Let me explain.
We have three types of nerves that are important to our discussion and for sake of not getting too technical, I will call them normal sensation nerves, pain nerves and muscle movement nerves.
The way we are "wired" neurologically, our pain nerves are turned off as long as the normal sensation nerves are sending signals about normal sensations to our brain.
Normal sensations can be described as light touch, heat, cold, joint motion, muscle tension, vibration, etc.; basically any sensation that is not painful.
Of course pain nerves give us the sensation of sharp pain, dull pain, burning pain, aching pain, bone pain, itchy pain, etc. If you have chronic knee pain, you know about all the kinds of pain there can be! You would do just about anything to get rid of the pain - but you don't want to have surgery. You've seen too many people have a bad outcome and you don't want that poor surgical outcome for yourself!
When our pain nerves are active our muscle movement nerves are affected and we have abnormal motion; we limp or have an altered way of moving in an attempt to have less pain. When we are in pain, the muscle movement nerves will cause certain muscles to be weak and other muscles to have too much tension. The abnormal tension in muscles due to the pain nerves being activated create a viscious cycle that keeps us in pain. The cycle must be broken for us to get any meaningful help for our chronic knee pain. This same mechanism is similar for any other painful condition such as shoulder pain, plantar fasciitis, carpal tunnel syndrome, tennis elbow, shin splints, etc.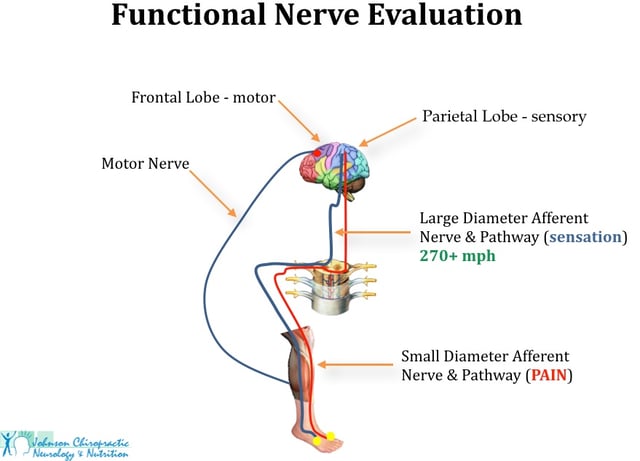 When I am helping someone with chronic knee pain, I perform the following assessments:
A functional nerve evaluation to measure normal sensation nerve function
A functional muscle evaluation to evaluate what muscles are weak and which are too short
A joint function assessment to determine if the knee joint has lost its ability to have normal end range of motion called joint play.
Evaluation of imaging (either x-ray, CT or MRI) to visualize the extent and nature of any internal knee damage.
A questionnaire that helps me understand the dietary habits and overall health of the systems of the body (holisitic approach)
Once I have the information from the various assessments, I can then determine the proper course of action for the chronic knee pain sufferer.
The "recipe" I use to help people recover from chronic knee pain is a multi-modal one. This means I layer several treatment strategies that are aimed at helping the various issues I found during the evaluation. Typical methods employed are the following:
Hopefully now you can understand why I am so excited about the process we use to help chronic knee pain patients achieve resolution to their knee pain without resorting to surgery. Of course, there are patients who have accumulated enough knee damage that their only recourse is surgery, but millions of people can benefit from this research validated and clinically proven method.
Don't keep this information a secret. Tell your friends and family that there is a solid non-surgical answer for chronic knee pain. Send them to www.ChronicKneePainHelp.com today. To see video testimonials check out this page.
*The trademark Trigenics® is owned by the International Institute of Trigenics® Inc. Johnson Chiropractic Neurology & Nutrition is a licensee of the trademark
---
For more details about the natural approach I take with my patients, take a look at the book I wrote entitled: Reclaim Your Life; Your Guide To Revealing Your Body's Life-Changing Secrets For Renewed Health. It is available in my office or at Amazon and many other book outlets. If you found value in this article, please use the social sharing icons at the top of this post and please share with those you know who are still suffering with chronic health challenges, despite receiving medical management. Help me reach more people so they may regain their zest for living! Thank you!
---
References:
1. http://www.ncbi.nlm.nih.gov/pubmed/15523898
2. http://www.degruyter.com/view/j/plm.2014.3.issue-3/plm-2013-0063/plm-2013-0063.xml
3. http://link.springer.com/article/10.1007%2FBF02763980
4. http://www.ncbi.nlm.nih.gov/pmc/articles/PMC3014486/
5. http://www.ncbi.nlm.nih.gov/pubmed/24501089
6. http://articles.mercola.com/sites/articles/archive/2015/02/02/anti-inflammatory-foods-herbs-spices.aspx
7. http://www.ncbi.nlm.nih.gov/pmc/articles/PMC2565620/
8. Mennell, John. Joint Pain, Little Brown and Company, 1983
9. IBID